International UniOrchestra Concert – THUR. 8:00 PM!
Another initiative that allows you to feel the magic of Christmas in this strange 2020 will be held on Thursday. There are usually 1,500 of them – international students of the University of Wrocław. Despite the pandemic, some of them stayed in Poland. They invite you to a remarkable concert from Oratorium Marianum – full of canzones and songs from all over Europe, Asia… and Poland, although in a foreign interpretation. Join in and recharge your pre-holiday batteries. 
Here you will find the link to the broadcast – be with us and them this Thursday evening – a week before Christmas: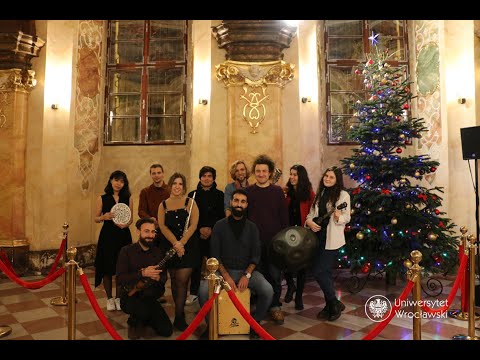 In 2016, the University International Students Orchestra was established at the University of Wrocław on the initiative of the International Cooperation Office. Its members are students from all over the world who were joined by their studies at the University of Wrocław and their love of music. They sing in various languages, play ethnic drums and other different instruments. The goal of their common activities is to present to the widest possible audience the beauty of diversity, cooperation and musical dialogue between representatives of different cultures, worlds and religions. The leader and co-creator of the project is Piotr Gospodarczyk, who runs the international educational activity of the School of Rhythm. The orchestra's project promotes building bridges rather than building walls. More information about the project can be found at www.uniorchestra.com.